Warning
: Use of undefined constant gad_content_tag_filter_replace - assumed 'gad_content_tag_filter_replace' (this will throw an Error in a future version of PHP) in
/home/wildwo9/public_html/wp-content/plugins/google-analytics-dashboard/google-analytics-dashboard.php
on line
485
Each child's progress is documented in a portfolio of photographs, quotes, work samples, and teacher observations that shows growth from the time they enter Wildwood Nature School to the day they leave. Along with individual goals, each child's time at Wildwood Nature School should show progress in the following domains: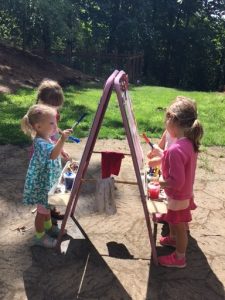 Social-Emotional Competency
Strong sense of self, including physical characteristics, likes and dislikes, accomplishments, and skills.
Uses words and actions to show understanding of and concern for others' feelings.
Acknowledges diversity and values each person's role within a community.
Problem solves with adult guidance.
Plays cooperatively with all children and develops friendships with peers.
Uses socially responsible methods for self-regulation and impulse control.
Linguistic Competency
Comprehends stories and discussions about things not experienced directly.
Provides explanations that can be comprehended by a non-participating adult.
Follows instructions.
Has extended conversations and dialogues.
Demonstrates pre-reading skills, such as, emergent writing, letters and letter sounds, concepts of print, and a love of books.
Cognitive Competency
Ver la traduccion al Espanol
Mi maestra favorita en mi niñez fué definitivamente la Señora All. Ella fué mi maestra de segundo grado de primaria. Su especialidad más bien sus dos especialidades eran:
Número uno, su creatividad.
Número dos, un conocimiento verdadero de cada uno de sus estudiantes con sus personalidades, sus puntos fuertes y que era lo que sus estudiantes necesitaban de ella para aprender.
Mi hermano menor también tuvo a la Señora All como maestra de segundo grado. El solía llevar muñecos de peluche a la escuela todos los días. Y la Señora All le permitía a mi hermano que su muñeco de peluche hiciera el trabajo de escuela o su tarea. Pero realmente el trabajo no era del muñeco de peluche, era el trabajo de mi hermano. Esa era la manera de aprender de mi hermano. Vamos a decir que tal vez los problemas de matemáticas no eran algo interesante para él pero si mi hermano le podía enseñar a su muñeco de peluche cómo resolver los problemas de matemáticas tal y como lo hizo "Jorge el curioso" entonces por medio del muñeco de peluche y con la letra de mi hermano esa era la mejor manera de que mi hermano aprendiera matemáticas.
La Señora All supo entonces que no necesita ser tan enfocada y tan rígida en sus enseñanzas. El dar a un niño una hoja llena de material y exigiendo hacer y completar el trabajo no funciona.
Si cada niño quiere darle su propio toque personal de aprendizaje, el niño aprenderá. Eso funciona! Siempre y cuando comprenda el material.
Otra de las enseñanzas de la Señora All fue la obra de teatro que ella organizaba cada año.
En cada obra de teatro ella incorporaba sus experiencias como maestra y las personalidades de cada estudiante reflejadas en los personajes de su obra.
Nosotros hicimos una pequeña adaptación de la obra "Free to be you and me" ("libre de ser tú y yo") cuando you estaba en la escuela. Cantamos algunas canciones.
En esa obra la Señora All incluyó fragmentos de momentos que pasaron en el salón de clases. De esa manera pudo hacer sentir a cada niño no solamente parte de la experiencia en la obra pero también que tan especial cada niño era para su salón de clases.
Shows curiosity about the environment, classmates, and new situations.
Plays with or combines materials in new and inventive ways.
Self-selects activities according to interest or learning goals.
Shows persistence.
Remembers and retells stories and events.
Demonstrates cause and effect.
Thinks strategically and logically.
Demonstrates mathematical understanding including, classification, number sense, measurement, and patterns.
Physical Competency
Demonstrates gross motor control.
Demonstrates fine motor control.
Shows balance and coordinated movement.
"We must observe their faces, their eyes, and their hands, because it is here that words, actions, and feelings are born. It is here that we find the meaning of what they do."
— Sonia Cipolla and Evelina Reverberi