Warning
: Use of undefined constant gad_content_tag_filter_replace - assumed 'gad_content_tag_filter_replace' (this will throw an Error in a future version of PHP) in
/home/wildwo9/public_html/wp-content/plugins/google-analytics-dashboard/google-analytics-dashboard.php
on line
485
Nicole Fravel
Teacher/Owner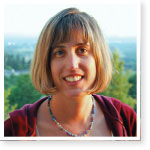 Ms. Fravel is a certified teacher, museum educator, and curriculum writer with over 15 years of experience educating young children. She holds a Master's of Education from Stanford University and keeps up to date with current research and practices through memberships in the National Association for the Education of Young Children and the International Reading Association.
Ver la traduccion al Espanol
Yo empecé primero siendo maestra en una escuela pública. Durante ese periodo, hubo un tiempo donde la escuela primaria empezó un programa llamado EVEN. Este programa está fundado con recursos monetarios públicos para niños que vienen de familias de bajos recursos y edades de 0 a 8 años.
Este programa provee una variedad de oportunidades de aprendizaje para que el niño/ la niña desde que nacen. El objetivo es que tengan más oportunidades de tener éxito en su futuro.
Uno de esos componentes de aprendizaje es el pre escolar.
Así que me ofrecieron tomar la iniciativa en los grados de pre escolar. Ahí me di cuenta que verdaderamente disfrutaba de la enseñanza a niños de edad más chica con tanta curiosidad, con tanto amor a la vida.
Cuando mi hijo mayor nació, me dí de baja de maternidad y no trabajé como maestra pero trabajé en un museo haciéndome cargo del programa de alcance para niños de edades de 0 a 5 años en centros de Head Start (Buen Comienzo) y diferentes organizaciones comunitarias. Enseñe programas de Arte y Música a todas las familias.
Ms. Fravel began her career teaching in public elementary schools and an Even Start preschool before accepting a challenge to help close the achievement gap for African American and Latino children. She served as School Partnership Director for a non-profit consulting organization working with schools in low-income communities.
In 2005, wanting to spend less time on the road and more time with her own children, Ms. Fravel accepted a position as early childhood educator at a well-regarded children's museum, supervising programs for children under 5. In addition to creating programs for the museum floor, she created and delivered parent-child art, music, and science workshops for toddlers and preschoolers and outreach programs with nonprofit partners such as Head Start and the United Way. The educational curriculum she created for the museum includes a 10-week PeeWee Mariachi program combining music and language learning for toddlers and preschoolers; math, science, music, and art curricula for museum outreach programs; K-3 classroom guides for teachers to use in conjunction with school field trips to the children's museum; and a pre-K through grade 5 educational curriculum for a science and math based exhibit that was sponsored by the National Science Foundation.
In her various positions, Ms. Fravel has trained Americorps workers and college-aged museum staff on such topics as, "Learning Through Play," "The Stages of Infant Development," and "Teaching Writing to ESL Students." She has been an invited presenter at conferences, including the Natural Start Alliance, conducting workshops on integrating nature and preschool education.
"If a child is to keep alive his inborn sense of winder without any such gift from the fairies, he needs to companionship of at least one adult who can share it, rediscovering with him the joy, excitement, and mystery of the world we live in."
–Rachel Carcon
Daisy Batiz
Teacher
Daisy Batiz is a native speaker of Spanish from Puerto Rico. She has 15 years of experience teaching young children, much of it with children with special needs. Ms. Batiz holds a Bachelors degree in Education and is working toward her Masters degree. She hopes someday to open her own Spanish Immersion school.
See English Translation
Now I would like to talk about the reasons why I decided to become a teacher.
Since I was young, I remember when I lived in Puerto Rico, I always played the teacher with my little sister. She was the student. I arranged all the dolls and stuffed animals around pretending I was teaching them all. That was something that at a very early stage of my life, I knew that was my vocation. I was going to be a teacher. That was one of my passions.
I love art and I love to express and to teach kids through art.
I love creating different games, I love to come up with new activities that will keep kids motivated and engaged.
In regards to my job at this preschool, I think that I've felt really grateful because the kids have showed me a lot of interest in learning a second language.
At the beginning of my time here, I felt a little scared about not having any interest from the kids to learn Spanish but I've been surprised! The kids really love it!
They really want to learn new words every single time they have the chance to learn.
When we go outside to explore, they asked me, "Daisy, how do you say this in Spanish? How do you say this phrase?"