Tiny Seeds Parent Child Classes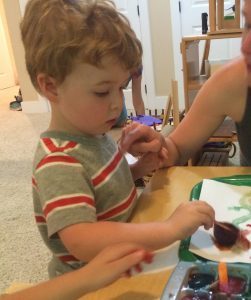 For children ages 1-3 and their caregivers.
Join us for nature walks, activities, stories and crafts specifically designed for this age group.
Parents learn and grow with their children as the group takes an adventure hike in the woods, discovers the world outdoors, participates in art and story time activities chosen specifically for the very young, and socializes in an introductory preschool setting. Depending on the size of the group (limited to no more than 8 children), one or two experienced early childhood educators will lead the group and be available to answer parenting questions.
Classes are two hours in duration, from 1:15 pm until 3:15 pm on Wednesday afternoons.
Fall session 2021 runs Wednesdays from September 29 – November 17.
(The Fall 2021 Tiny Seeds session is currently full. If you complete a registration form at this point (which you are encouraged to do), you will be placed on a waitlist and contacted only if there is an opening.)
Price is $160 for the fall session.
To enroll in the parent child class, complete the appropriate form below and mail payment to 10126 NW Ash Ct, Portland, OR 97231.
Please note, we reserve the right to cancel the session if there are not enough families registered.